11/17/2020
Advalurem Recaps Dallas Property With $60M Freddie Mac Loan
As seen on Real Estate Weekly, October 02, 2020.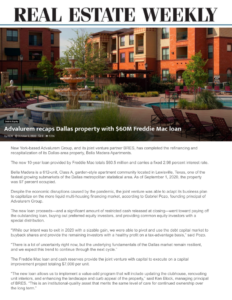 New York-based Advalurem Group, and its joint venture partner BRES, has completed the refinancing and recapitalization of its Dallas-area property, Bella Madera Apartments.
The new 10-year loan provided by Freddie Mac totals $60.5 million and carries a fixed 2.98 percent interest rate.
Bella Madera is a 612-unit, Class A, garden-style apartment community located in Lewisville, Texas, one of the fastest growing submarkets of the Dallas metropolitan statistical area. As of September 1, 2020, the property was 97 percent occupied.
Despite the economic disruptions caused by the pandemic, the joint venture was able to adapt its business plan to capitalize on the more liquid multi-housing financing market, according to Gabriel Pozo, founding principal of Advalurem Group.
The new loan proceeds—and a significant amount of restricted cash released at closing—went toward paying off the outstanding loan, buying out preferred equity investors, and providing common equity investors with a special distribution.
"While our intent was to exit in 2020 with a sizable gain, we were able to pivot and use the debt capital market to buyback shares and provide the remaining investors with a healthy profit on a tax-advantage basis," said Pozo. "There is a lot of uncertainty right now, but the underlying fundamentals of the Dallas market remain resilient, and we expect this trend to continue through the next cycle."

The Freddie Mac loan and cash reserves provide the joint venture with capital to execute on a capital improvement project totaling $7,000 per unit. "The new loan allows us to implement a value-add program that will include updating the clubhouse, renovating unit interiors, and enhancing the landscape and curb appeal of the property," said Ken Block, managing principal of BRES. "This is an institutional-quality asset that merits the same level of care for continued ownership over the long term."