5/23/2016
ADVALUREM IS AWARDED PREFERRED EQUITY PLAYER OF YEAR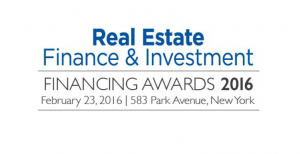 Advalurem Group is pleased to announce that it was recently awarded Preferred Equity Player of the Year in Real Estate Finance & Investment's 2016 Awards.
The annual REFI Awards acknowledge and reward real estate investment firms that have demonstrated extraordinary performance and innovation over the course of the year. The Preferred Equity Player of the Year Award recognized the demonstrated success of Advalurem Group's innovative approach to making investments in the asset class across all levels of the equity capital structure, specifically acknowledging the firm's follow-on preferred equity investment in Bella Madera at Lake Lewisville, Texas in 2015.
"Gone are the days where investors simply purchases real estate without regard to how the debt and equity is intelligently structured to manage risk and magnify return," said Gabriel Pozo, founding principal of Advalurem Group.
"It is an honor to be selected for this award and recognized by our peers for our impact on the industry," said Julie Tran, Director of Asset Management at Advalurem Group. "We're looking forward to another year of superior performance and the continued success of our institutional investment platform."
The REFI award presentation ceremonies were held at 583 Park Avenue in New York on February 23, 2016. For more information about the awards ceremony and recipients, a pdf of the original article written by REFI is available for download here.
About Advalurem Group
Advalurem Group is a nationally focused, privately held investment and asset management firm that specializes in middle-market commercial real estate. The firm targets moderate-size real estate investments through joint venture structures and aims to become the leading capital partner of this market segment. The group invests across all major property sectors and along the risk/return spectrum with an emphasis on core-plus and value-added strategies. Since its formation in 2011, Advalurem Group has invested in approximately $250 million of commercial properties in Dallas, Chicago, Philadelphia and other cities across the country. The firm is based in New York.